Featured Products
Resources
Wellness Pharmacy is now compounding Respen-A
Dr. David Perlmutter and Alberto Villoldo create the Power Up Your Brain program, a ground-breaking, five-week plan that helps prime the brain for enlightenment.
Important Message
Legislation has been introduced to shift the regulation of compounding to the FDA. Your choice to receive compounded medications is no longer safe. Click here to learn more.
Click here to learn more about Your BHRT at Risk.
ESSENTIAL GSH®: Oral Glutathione the body can use
WHAT IS ESSENTIAL GSH®?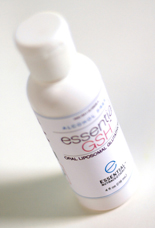 Essential GSH® is a breakthrough liquid formulation uniquely designed to increase the systemic bioavailability of Glutathione, via a liposomal-based delivery. Detailed information is available at http://www.essentialgsh.com/.
INGREDIENTS
The primary ingredients in Essential GSH®-aside from glutathione-are purified water and essential phospholipids.
WHAT MAKES ESSENTIAL GSH® DIFFERENT?
No alcohol
No glycerin
Pharmaceutical grade base
Proven cell absorption via in-vitro and in-vivo exposure*
Contains essential phospholipids
Bottled in specially-designed material that protects from effects of moisture and sunlight
Gluten/casein free
Easily adjustable dosages
SCD compliant
Affordable
*IN VITRO TESTING
L2 cells were exposed to 2.5% Essential GSH® and intracellular glutathione was measured after 30 minutes, 1 hour, 2 hours, 3 hours, and 4 hours. Intracellular glutathione content was measured via the spectrophotometric recycling assay, normalized to total cellular protein.
Results clearly indicate that intracellular glutathione levels increased after exposure to Essential GSH®, peaking at 2 hours with over a 2-fold increase. The transient action of the increased glutathione remains unknown, although repression of the endogenous glutamate-cysteine ligase (GCL) enzyme through GSH-feedback inhibition may be a likely reason.
Tests performed by:
Dale Dickinson, PhD
Assistant Professor
Department of Environmental Sciences
University of Alabama at Birmingham
*IN VIVO TESTING - visit www.essentialgsh.com
WHAT IS A LIPOSOME AND HOW DOES IT WORK?
Derived from lecithin, a liposome is a microscopic fluid-filled pouch with walls identical to the phospholipids that make up the human cell membranes.
The outer wall of the liposome is fat soluble-while the inside is water-soluble. This combination enables liposomes to be readily absorbed, allowing for systemic availability of the water-soluble materials that would otherwise not be absorbed into the body.
The administering of therapeutic compounds via liposomal technology has been effective in many areas.

RECOMMENDED SERVING INFORMATION:
ADULTS:
Adult servings begin with 1.5 teaspoonfuls (approx. 650 mg) twice daily for 7 to 10 days-and can be lowered to one teaspoonful (approx. 430 mg) daily as a "maintenance serving", or as otherwise directed by your physician or health care professional.
CHILDREN:
Essential Nutraceuticals® recommends 1/8 to 1/4 of a teaspoonful (approx. 55 to 108 mg) for every 30 lbs of the child's weight, twice a day. Please consult with your child's physician before use.
Directions:
Mix one serving in water or juice of choice, and drink promptly.

PRICING

SIZE QUANTITY
5oz: 1-4 5+
$60 $55
(NOTE: Pricing is subject to change without notice)

STORING
Refrigeration is optional. At the very least, however, you should store at room temperature. Although the bottle is made of specially designed material that protects Essential GSH® from the effects of moisture and sunlight, we recommend storing it out of direct sunlight.

SERVICE AND SUPPORT
Essential GSH® is supported by the professional and knowledgeable staff at Wellness Pharmacy. We're committed to customer service-so if you, your staff or your patients have any questions or concerns about Essential GSH®, please don't hesitate to contact us.

www.essentialgsh.com